We are so proud to announce that we have won a Best of Britain Award from Bridebook!
To be voted as one of exclusive group wedding venues that are – Best of Britain was a wonderful surprise and we cannot thank those who have given us such fabulous reviews and nominated us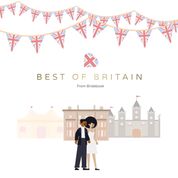 2020 has been challenge for all of us. We have lived its roller coaster ups and downs with our couples. Every step of the way we have listened and tried our best to give them the help and understanding they deserve. Some have gone ahead ( when possible) with some very beautiful and happy small celebrations that have had a charm of their own. Others we are looking forward to finally creating their happy day with this year.
After an awful year for all of those couples who have wanted to get married and for those of us who have been struggling to help them, all we can say is that this is something of a much needed boost.
We are looking forward to what we hope will be a much better year. Now with our Best of Britain Award in hand we feel we have some added enthusiasm. From traditional to Pirate we can make you ideas become a reality. So if you are looking for your Wedding Venue contact us .
For more information in us follow the links below to our Wedding page & to our latest brochure as well as to Bridebook
https://64h.6c3.myftpupload.com/wp-content/uploads/2020/11/weddingbrochure202122New.pdf
https://heskinhall.com/weddings/